You're about to hear the story of how one man transformed his life from being broke, depressed and suicidal – to now being abundantly wealthy, happy, fulfilled and positively affecting the lives of countless thousands of people globally!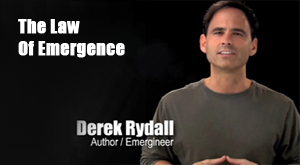 Contained within each one of us right now is the potential to attain greatness in our life, and the ability to envision and manifest our heart's deepest desires.  I had the special honor to interview Derek Rydall who is the founder of the Law of Emergence, and who has helped thousands of people around the world to discover this seed of greatness within their own lives so they can leave behind a life of doubt, fear, lack and uncertainty – and instead choose to live a meaningful life filled with abundance, purpose and personal fulfillment.
Derek Rydall has been a major inspiration in my own life, and his wisdom and teachings are a big reason why this website even exists.  Derek taught me that just as the tiny acorn contains within itself a mighty Oak tree, that I also have contained within me a much mightier and magnificent version of myself.  This revelation has caused me to change the way I view my own life, along with the potential I have to realize my dreams and desires, and to create positive change in the world.
I got to spend 45 minutes chatting with Derek about these universal truths, and once you listen to this interview yourself, you'll quickly see the powerful implications these ideas can have in your own life.
Be sure to also sign up for Derek's free video course that talks much more in-depth about the Law of Emergence and how exactly you can apply these life-changing principles so you can allow your own greatness to emerge, and start experiencing life with a much higher level of happiness, abundance and true personal fulfillment!
Hit 'PLAY' Below to listen to the Interview!
Bonus!
Be sure to sign up for another one of Derek's powerful and life-changing video courses, totally for free!
Emergineering: Engineer the full emergence of any area of your life

About Derek Rydall
After a life-changing 'brush with death,' Derek Rydall tried becoming a monk, then cloistered himself in his apartment
without TV or news and meditated for several years — emerging to become a licensed integrative therapist, best-selling author, and adopt a monk (that's another story).
The world's #1 expert on The Law of Emergence, he has trained top executives at Fortune 500 companies (from American Express to Disney) in communication skills, coached writers, artists, and media professionals (including Oscar and Emmy winners) on creating enlightened entertainment, regularly writes for The Huffington Post and AOL, and annually teaches tens of thousands people around the planet how to live a purposeful, prosperous, and unstoppable life!
Share and Enjoy